In addition to general medicine and surgery, we offer the following:
Non-anesthetic "gentle" dentals - 2nd Thursday of every month
Come in for a dental checkup and find out if your pet is a candidate for a non-anesthetic dental today! These pets should have a good demeanor and do not have advanced dental diseases.

Non-anesthetic dentals are a great way to provide your pet with preventative care for their teeth and gums. Along with regular home care, non-anesthetic dentals can help maintain your pet's oral cavity in a simple and effective manner without the use of anesthesia.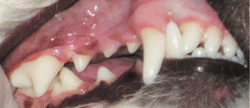 Our dental hygienist sits patiently with your pet to ease them into the procedure, beginning with a full examination of every tooth and gum condition. This is followed by a dental cleaning and machine polishing. After your pet's dental, home care is highly recommended, and we are more than happy to help instruct you on how to properly brush your pet's teeth!

Just as we visit our dentist every six to twelve months, so should your pet!
---
Digital X-Ray
Our top-of-the-line digital X-ray system offers multiple advantages that improve our ability to diagnose problems. With the latest technology from Sound-Eklin, we are able to enlarge images, change contrast, take measurements, and email images to specialists for further review. And with only 4 seconds from image capture to computer screen, this dramatically decreases your wait and the amount of time your pet spends on the X-ray table.
---
Ultrasound
Ultrasound offers an additional dimension of imaging the body, giving us a non-invasive, painless, and sensitive way to visualize soft tissue organs and help with diagnosis. This latest GE ultrasound system is equipped to record images and video, enlarge and sharpen images, and detect blood flow using color doppler.
---
Digital dental X-ray
Diseases such as abscesses, odontoclastic resorption lesions, pulp necrosis, and fractures can cause pets severe pain, but may be undetectable on physical exam and general probing. Dental X-ray allows the doctor to locate these types of problems and treat them properly.
---
Abaxis in-house laboratory
Emergency situations require timely information for the best care. Our Vetscan VS2, the top-of-the-line blood analyzer from Abaxis (which also manufactures precision human medical blood analyzers), provides important blood results in a matter of minutes from a much smaller quantity of blood than most other machines. The VSpro machine provides important information on clotting times, especially in cases such as rat bait poisoning. For more information on Abaxis, please click here.